Adrian Barraza's curiosity about microelectromechanical systems (MEMS) set him on his career path. MEMS, which are also known as micromachines, are made up of components between 1 and 100 micrometers (often called microns) in size. (For reference, a human hair ranges from 20 – 200 micrometers.)
Right out of high school Barraza had an entry-level job as an operator at EMCORE. His brother-in-law was the senior engineer at the company and helped him get the job at the company that manufactures mixed-signal optics and MEMS-based products for aerospace and defense systems. Barraza liked the technology and enjoyed it when the engineers shared their insights about lithography and etching of silicon chips.
"That job really kind of opened up my eyes to see what job opportunities there are," he said.
After a year and half, he took a job on the infrastructure team at an Intel facility. He learned plumbing and heating and air conditioning skills on the job, but yearned to understand more about the semiconductor chip processing happening in the plant.
Formal and On-the-Job MEMS Education
In 2013, at age 25, he enrolled in Central New Mexico Community College's MEMS program. "I wanted to really focus on that kind of technology and that kind of work," he said.
By attending college full time, Barraza was able to complete his associate of applied science degree in two years. Upon graduation in May 2015, he was hired by HT Micro, a manufacturer of magnetic ferrous switches and reed switches.
"I was involved with testing the overall yield of the product," Barraza said. He worked beside an engineer who directed him to do soldering of small-scale, high-speed components, resistors, and capacitors. He had to do measurements for blueprints of printed circuit boards (PCBs). He also processed data reports on the overall performance of components.  
He said it was extremely helpful that his associate degree program taught the knowledge and skills the engineer expected him to have. The MEMS curriculum used at Central New Mexico Community College was developed by the Support Center for Microsystems Education with support from the National Science Foundation's Advanced Technological Education program.
In 2016, he became a technician at Skorpios Technologies, Inc. The company manufactures integrated optical modules and subsystems for opto-electronic communications. Barraza describes his work as involving "silicon photonics, CWDM [coarse wavelength division multiplexing], multiplexers, modulators, and a lot more fun stuff." His tasks again included measuring product performance, but this time he worked with lasers and receivers.
"That laser needs to be aligned perfectly. So, it takes a certain type of skill to be able to align different mirrors, different transmitters, reflectors and couplers. All that we learned in college," he said.
After two years Barraza was promoted to a supervisor of the night shift. He trained other technicians, and wrote process instructions and standard operating procedures.
Pivot to Healthcare
He liked it his work with Skorpios, but when a friend employed by Agiliti Health Inc. recruited him, he made the switch to the medical equipment management company.
Now as a biomedical technician he repairs and maintains medical equipment for hospitals.
"I wanted to try something different," Barraza said, adding that he likes traveling to various hospitals in Albuquerque, New Mexico, and El Paso, Texas. COVID requires vigilant attention to personal protective equipment, but he likes interacting with the staffs at various hospitals and takes satisfaction in accomplishing time-sensitive repairs.
He estimates that 90% of the components inside ventilators, patient monitors, infusion pumps and anesthesia equipment are MEMS. Tiny rotors, optical sensors, and transducers are among the most common micromachines in them.
After demonstrating his proficiency in his first year with the company, Agiliti sent him to training programs to become a certified technician for particular brands of ventilators and anesthesia equipment.
For biomedical equipment technicians being able to think critically while following the service manual instructions for various pieces of equipment is essential, Barraza explained. When he talks about his work it is clear that he takes pride in being diligent about searching for the root cause of problems rather than randomly changing parts.
Earlier in the day of the interview for this article Barraza's education, work experience, and tenacity helped him find that a kinked hose within an anesthesia machine was the source of an error code. Because he knew what the particular sensor on that PCB controlled, he knew to check the length of the hose first, which saved him time and the customer money.
Barraza's Checklist for Prospective Technicians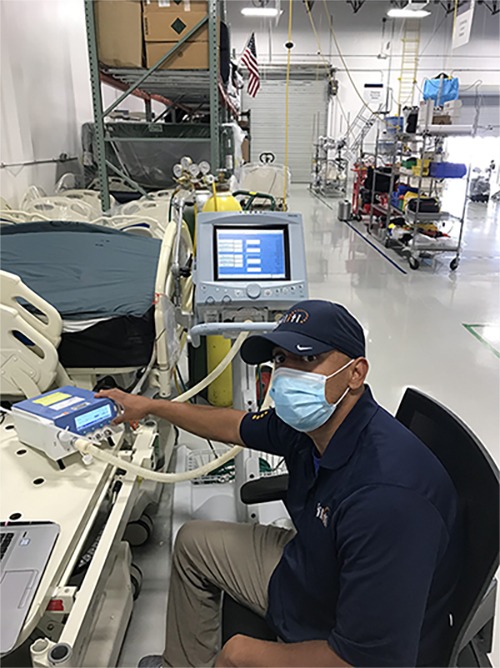 About a year ago Barraza was promoted to technical services supervisor for the district that includes Albuquerque and El Paso. Now at the age of 33 about 50% of his work involves hiring and training new technicians to work in the region.
Barraza said the competition for biomedical technicians is fierce and that it can take several months to find a qualified candidate. In addition to possessing an associate degree or equivalent from military or job experiences, he screens applicants for the following:
Effective troubleshooting skills
Clear understanding of AC and DC circuitry
A good work ethic
A willingness to work on teams.
Knowledge of digital technologies and transducers
Understanding of actuators, motors, gears, pumps, pistons, valves, and switches
Background in math and physics including mechanics, the piezoelectric effect, electromechanical processes, and electromagnetic force
Barraza said that every day he applies the lessons he learned in the physics course that was a pre-requisite to the MEMS program at Central New Mexico Community College. He thinks it is important for biomedical technicians to understand barometric pressure, the impact of temperature on components, and what happens in a vacuum system under pressure.
"Basically, the way I think about it is you need to have an understanding of working with mechanical tools, understanding of basic actuator theory," he said. He laughed when asked if he thinks he was born with mechanical skills. "It's something that you build with each job," he said.
He considers resurfacing and rebuilding the engine of his 2001 Mitsubishi Galant when he was  18 his first big mechanical accomplishment. At this point in his career he appreciates how his formal education and background with many different hands-on work experiences have combined for a versatile skill set.
"It means a lot, and comes in handy in real-world situations." he said.