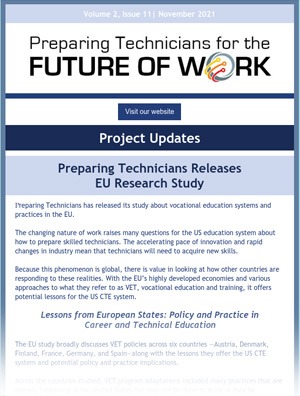 The November issue features the project's latest release, a research study on the EU vocational educational systems and practices. Also, hear from Hope Cotner, CORD President and CEO, on Making the Case for a Cross-Disciplinary STEM Core. Read about November events and resources and don't miss Podcast 31, an interview about technological advancements in the agriculture industry and what technicians will need for a career in ag.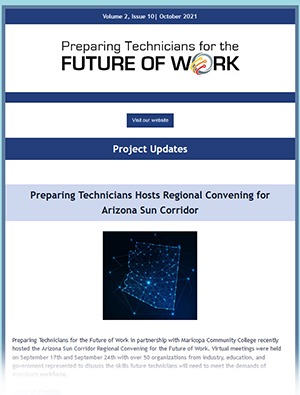 It's abundant fall news for Preparing Technicians! In the October issue read about the Arizona Maricopa Regional Convening, and get acquainted with our featured biomedical technician in this month's Technician Perspective. Don't miss the buzz about the project's Framework, learn about upcoming professional development events, and join one of the many National Awareness campaigns for STEM areas.
This issue ushers in opportunity for innovation for educators and industry in "A Framework for a Cross-Disciplinary STEM Core." Learn about the skills in demand, and what regional convenings have gleaned to inform this discussion. Read about the project's recent SIG with national and global perspectives, and catch up on the latest technician profile and podcast.