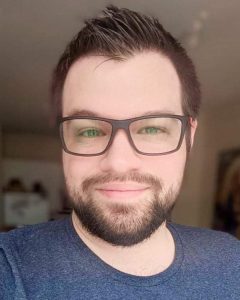 Korey Theberge, an engineering technician at Intel, says an informal study group helped hone his workplace communication skills.
For his work as an engineering technician in a research and development lab at Intel in Hillsboro, Oregon, Korey Theberge constantly uses what he learned in the Portland Community College's (PCC) electrical engineering technology program from which he graduated in 2016.
To test circuit boards that are new products or prototypes requires his efficient use of microscopes, oscilloscopes, and other measuring equipment, as well as precise soldering skills. Fortunately he has steady hands. He praises his PCC instructors for imparting strong foundational knowledge in how heat transfer works, how to read technical documents such as schematics, and how to use different types of software.
Moreover, the workplace communications skills that he has also found are essential were honed informally at PCC in the study group that he and several classmates formed to help each other. He describes their personal interactions working together on problems, using a white board to take turns writing out the steps of solutions, as "so beneficial."
In a challenging program that had lots of dropouts, all the people in his study group graduated. They also instigated the creation of The Maker Lab at PCC's Sylvania campus.
From this experience Theberge said he learned, "Everybody has something to bring to the table, and that just might be enough to help you understand the problems better."
Prior to COVID-19, when he returned to PCC to serve as a volunteer lab tutor, he told students that "networking and communication with people is just as important, if not more important than the material you are learning."
His recommendation for technical educators is that they weave communication skills throughout their lessons and help students get comfortable working with diverse groups of people by assigning them different lab partners. Without identifying how to finance small incentives he suggested that offering $10 gift cards to the college café may be a sufficient to nudge people to study together in the library or at each other's homes.
In his four years at Intel, Theberge has worked with people from all over the world and has learned the necessity of "establishing up front with your peers…what your skill set is and finding a common ground for terminology." Even among native speakers of English, similar technical terms have different meanings depending on the region where people work or where they went to school.
To him, effective workplace communication also means asking questions until one understands and speaking up when problems arise.
When problems crop up, he said, it's paramount to ask questions before diving in. "Intel would rather have you ask as many questions as possible and understand the significance of the problem than just to lie about it and say, 'Oh, yeah, I totally got this.' And then something happens and it comes back to you," he said.
Theberge, who is 31, explained that this concept can be difficult for millennials whose use of the Internet, video games, and smart phones has cut down on their time talking face-to-face with people in the same room.
He describes people he knew in science, technology, engineering, and math programs in college as "very shy about putting themselves out there." Aside from being reticent, many of his peers in college "didn't like to be the bearer of bad news."
But, he said, reporting problems is part of the job for technicians who work in advanced technology workplaces.
"Once you are out of the college environment and in the real world, you've gotta do it. Cause if something happens and it's super critical – like, 'Oh, this is really bad!' – the sooner you tell upper management or someone else who is your next go-to person [the better]. They would rather have you do that instead of waiting like a day or two later and then telling someone," he said.
The importance of frank, accurate communication – even if it's bad news – is another topic that Theberge has taken up with electrical engineering technology students.
More than once during his pre-COVID campus volunteer sessions, Theberge said he told students: "Get in the habit early, especially when you are in college, to kind of come out of your shell and say 'Hey!' if you are working on a lab assignment or in the lab room and something doesn't look right, speak up. It is better to learn that habit in a controlled, safe environment than in the real world where you are working on things that cost multimillions of dollars and you know if something happens and you don't call it out when you should have, that can affect project deadline. That could not look good for you and the group you are with."
During the Zoom interview, Theberge reflected on his work and how he continues to learn by accessing Intel's on-the-job training to master the software that displays the layers of complex systems within printed circuit board (PCBs) and to earn a Cadence industry certification.
He shared that when he was a teenager, a college education seemed out of reach.  "Honestly I wasn't expecting to graduate [from high school] on time, because I was one of those kids in high school who thought it was pointless and I didn't want to go," he said.  His parents had not saved money for him to attend college, so even when he visited the guidance counselor's office and found college programs he thought "were cool," the cost of tuition put him off.
When he was 20, his father pushed him to get moving on a career – rather than hourly wage jobs like those he had selling cell phones and exterminating pests – and offered to help him with college expenses. "I did my own due diligence," Theberge said of his decision to become a technician in a high-demand field to benefit society and himself.
As he sees it, the work he does at Intel contributes to products that help people, and his Intel earnings – which include $32 per hour wages, bonuses, stock options, and generous benefits – provide him with the assets to help others.
"I wanted to provide a better life for my friends and family. As sad as this sounds, money controls everything….In order to make more money I need to push myself and motivate myself to get myself in the situation where I have the ability to help people out when I can," he said, adding, "I'm glad I decided to do that because with COVID, I have a two-year degree and I'm doing just fine. My dad's been working on his business for 15 years and just lost it in less than six months."