John M. "Bud" Chesser, senior supervisor of the Advanced Coating and Vacuum Process Lab in the Materials Engineering Division of Lawrence Livermore National Lab, looks for two things when screening applications of entry-level technicians: basic mechanical skills and inquisitiveness.
During interviews, he asks: "Did you take apart your parents' drill motor and put it back together? Did it work? Did you have any spare parts? "
Successful candidates for technician positions at the government research lab in California are those who "understand they need to expand their knowledge" and who express a willingness to utilize the education options LLNL makes available to its technicians via courses remotely delivered to the workplace or at nearby community colleges.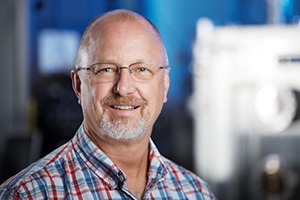 John M. Chesser, senior supervisor of the Advanced Coating and Vacuum Process Lab at Lawrence Livermore National Lab, looks for basic mechanical skills and inquisitiveness when hiring entry-level technicians.
"They need to understand the more knowledge they get the better they will become. It's not a criteria, but the more you know the more you go up the ladder. The more you know the more challenging projects you are asked to work on because maybe you have a skill set that not too many other people do, i.e. vacuum technology," he said.
(See the previous blog about Antonio Correa Barrios, a senior technologist at LLNL, whose broad skill set, strong drive, and extraordinary curiosity helped him advance quickly.)
Chesser said he likes it when new hires say things like, "I'm learning this but what's that? Can I learn that? What does that do?" And he encourages technicians to fill their personal "toolboxes" with knowledge and skills.
Expectations are high in the Advanced Coating and Vacuum Process Lab for technicians and the more highly skilled technicians that LLNL refers to as technologists because the thin films applications are among the last steps in long experiments or development of prototypes.
"There's a lot of effort going in to it, and we're last in line, Chesser  said, adding, "The technicians really have to think about what they are doing."
"Outside they push buttons. Here the technologists do start to finish," he said. This means designing, building, operating and maintaining the physical vapor deposition systems used to apply thin films to components for a variety of experiments. Chesser said the metal films range in thickness from 200 angstroms to 100,000 angstroms. For context, he notes that human hair is 500,000 angstroms thick.
Chesser is a technologist with 40 years of experience. He started work as a technician in his father's company, which built vacuum systems. When it closed, he was hired by Applied Materials to do quality control because he knew how to operate vacuum systems.
"It's a niche. It's not widely known," he said. In addition to what he learned on the job Chesser earned an associate degree from Las Positas Community College in Dublin, California, which in the 1980s offered vacuum technology courses.
Chesser has risen through the technician and technologist ranks at the lab during the past two decades to become a senior supervisor. In that role since 2018, he has served as an advisor to Las Positas faculty as they have revised their curricula with the goal of developing more well-rounded technicians. The college's technician education program now includes experiences in the campus welding and machine shops. Chesser hopes it will eventually include "a taste of vacuum technology."
"You don't need to know how to run a residual gas analyzer…. A good foundation for a technician-technologist is design, welding, machining," he said.
He thinks technicians' preparation should also include a "dabble in electronics."
His final recommendations are that aspiring technicians know how to write presentations using word processing software, and that they know how to compile and analyze data.
For those who choose to become vacuum technicians he says, "You're going to work on some projects that will just blow your mind."