Justin E. Manley, a marine technology innovator for three decades, sees many interesting, well-compensated opportunities in the ocean-based or "blue" economy for people interested in hands-on, intellectual work. "There's lots of roles that are a good fit," he said.
Among the challenges for technical educators is the historically low visibility of the maritime sector, and the reality that maritime technicians must combine high-tech skills with the physical and mental capabilities to thrive at sea.
"Ocean technician jobs, whether they're robotics or instruments or similar, there's an added level of personal challenge involved, which could come from being sea sick. It could come from sleeping in a confined space. It could come from being surrounded by different types of people. It could be useful for faculty to help their students gain exposure to such stressors or challenges outside the normal academic elements of school. That's going to help future technicians succeed," Manley said during a recent Zoom interview.
In addition to providing strategic business services through his marine technology consulting firm Just Innovation, Inc., Manley offers commentary on the maritime robotics industry in his publication, Uncrewed Maritime Systems Market Update. He is president-elect of the Marine Technology Society, a senior member of IEEE, a fellow of the Institute for Marine Engineering Science and Technology (IMarEST) and a member at large of the board of directors of Marine Advanced Technology Education for Inspiration and Innovation (MATE II).
Two ocean technology sectors that are good places for "digital natives" to look for careers are wind energy and aquaculture — essentially wind farms and fish farms.
"Offshore wind is probably going to create more demand for technician roles than offshore oil because wind will require a greater number of physical assets to deliver energy comparable to oil rigs," he said.
He predicts fish farms will grow as the costs of technologies that have long been used for land-based agriculture continue to drop, making them economically viable for adaptation for ocean-based aquaculture.
Both enterprises will increasingly depend on individuals who can operate autonomous vehicles or robots to monitor things like offshore wind turbine operations and the condition of massive fish nets. Technicians who understand device sensors and their connectivity within the Internet of Things and who utilize good cybersecurity practices will be especially valued. "Technicians who can keep a look out and be helpful to enhance cybersecurity is important," he said.
Formal Academic Preparation & Ocean Savvy
Manley encourages people interested in maritime careers that use autonomous technologies to first "get familiar with robots in general whether land, sea, or air" and then develop an ocean specialization. The former requires formal training in a certificate or degree program. The latter can be developed in one's personal life in various ways such as fishing with family, boating for recreation, or learning to scuba dive.
"There are many ways to demonstrate ocean savvy that don't have to come from education," he said. He thinks it would be "music to the ears" of prospective employers if an applicant has a certificate in autonomous technologies and can also share his or her experience sailing with family.
Ocean savvy matters because "a lot of the challenge in these roles — whether on a ship or rig — is just the change to your daily life when you set foot off land," he explained.
The Dynamics of Working Off-Shore
"It is important to understand and appreciate the dynamics of working offshore," he said, citing the typical commute to work being a bouncy boat or helicopter ride. Working at a near-shore wind or fish farm could involve daily trips across the water while jobs aboard a ship or oil rig could mean weeks or months away from home.
"When you leave shore you are living a different life experience and sometimes that is even more important to succeed at than the actual technical skill," Manley said.
In his view there are "intangibles," which he describes as a combination of emotional intelligence and interpersonal skills. In a sea-going environment where a vessel's chain of command must be respected these go beyond "soft skills" like punctuality, good communication skills, and teamwork.
"To some extent you need to align your sense of individuality with the fact that you might be doing something risky, and there are certain rules and policies and people who are in charge, and there are good reasons for that," he said.
Shared reliance on one's shipmates means that in stormy weather people need to be able to collaborate, work within the chain of command, and perform even if they struggle to relate to each other or speak the same language.
Emerging Drivers of Ocean Economy
Decreasing robotic technology costs — good ocean robots cost $50,000 now rather $500,000 a decade ago — and billionaires' interest in ocean science are two trends driving activity in the maritime ecosystem.
"The availability of ocean robotics is increasing rapidly and that means many more missions — whether they're scientific, commercial, or government — will be empowered by this technology," Manley said.
Eric Schmidt, former CEO of Google who created the Schmidt Ocean Institute, is the most well known high-net-worth individual involved in ocean research projects that employ technicians as well as scientists and engineers.
While some billionaires' philanthropy may overlap with commercial interests, Manley sees altruism as the force behind these new sources of support for ocean technology research, which has historically been funded either by the military, energy industry, or shaped by academia.
"The motivator is truly one of recognition that the ocean science side of the ledger in our society has been woefully underfunded and under-supported," he said.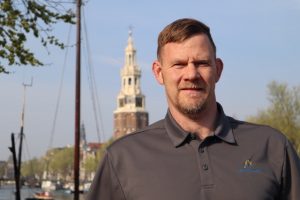 Justin E. Manley, founder of Just Innovation, Inc., has focused on unmanned vehicles, robotics, sensors, and undersea systems while working for startups, public corporations, academia, and the public sector.