Alex Thomas's enthusiasm for renewable energy and the technical skills he learned during the three-semester certificate program at Madison Area Technical College (Madison College) in Wisconsin helped him get a paid internship as a systems integration technician at SunPeak.
As an intern, the 25-year-old Thomas worked alongside John Schwarzmeier, the group leader for Systems Integration who is in charge of operations and maintenance on large solar energy systems. His work was going along fine in the fall of 2020 when Schwarzmeier learned Thomas had a background in graphic design and journalism, and had taught himself several software languages.
Those skills made him a good fit for the company's Project Development Department. "He showed promise, and helped me out doing things in the field and got a little taste of all aspects of the business," Schwarzmeier said of Thomas and the company's decision to hire him for the team that interacts between sales and installations.
Since January 2021 when Thomas began as a full-time project development associate, he has learned the 3-D solar performance modeling software program HelioScope. He uses the program to create 3-D maps of buildings for graphic displays of energy usage, which the company includes in its solar energy system proposals.
"Having to learn a lot of that software in my undergraduate degree on my own gave me the skills to learn some of these new programs," he said.
Prior to enrolling at Madison College in 2019, Thomas had earned his bachelor's degree in English from Edgewood College. He has a minor in science communication and several graphic design courses on his undergraduate transcript as well as the experience of teaching himself the software programs the college newspaper used for its print publication and website.
Thomas looked for communications jobs after graduating from Edgewood in 2018 without success. He was working as a bartender when he enrolled in Madison College's renewable energy program in the hope that additional renewable energy knowledge and technical skills would strengthen his applications for work with government environmental agencies.
"I was open to whatever opportunity came about," he said.
So he showed up at an optional field activity to help Madison College Professor Kenneth Walz install a small solar array for a research project. It tested whether aluminum sheets underneath bifacial photovoltaic (PV) panels increased their energy production, and compared the snow melting performance of bifacial panels with traditional, single-sided PV modules.
Thomas was subsequently invited to volunteer at RENEW Wisconsin's Energy Summit in January 2020. There he met employers and leaders of the Midwest Renewable Energy Association (MREA). During conversations he learned about a paid internship program funded by the Department of Energy that MREA administers with the Wisconsin Technical Colleges. By late August Thomas had secured an internship at SunPeak.
His advice to community college faculty is to encourage students to participate in research opportunities and industry conferences.
"A big thing was offering opportunities. I feel like I can draw a line from helping out with that first lab installation with the bifacial panels with snow melt all the way until getting this position with Sun Peak," Thomas said, adding it is important for students to respond positively and follow through on professors' suggestions.
Thomas is continuing to pay attention to opportunities. He's currently taking an MREA course to prepare for NABCEP Associate certification, which Sun Peak leaders would like him to have. The company will reimburse the course and industry certification exam costs after he passes the exam.
He is also writing blog posts for the company's marketing department.
"SunPeak being a small company, there's a lot of ways that I feel like I can help out, and no one's really tied to their specific role," he said.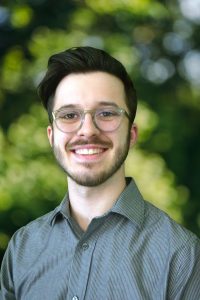 Alex Thomas
Project Development Associate Sunpeak
Photo Courtesy of SunPeak